Meet Fortune Mukanya, Intra-ACP Masters Student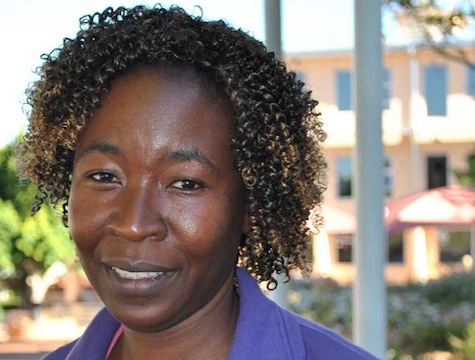 Five African postgraduate students awarded scholarships under the Intra-Africa Caribbean Pacific (Intra- ACP) STREAM Mobility Scheme have commenced their studies at the Polytechnic. A consortium of eight African universities, the Intra-ACP STREAM mobility scheme is funded by the European Union and coordinated by the Polytechnic of Namibia. The students who were selected to study at the Polytechnic came from Botswana, Ghana, Tanzania, Ethiopia, and Zimbabwe. They are pursuing Masters in Integrated Land Management, Information Technology, and Integrated Water Resource Management. PIR's International Relations Officer, Paulina Haikola, interviewed Fortune Mukanya, one of the scholarship awardees:
PIR News: Can you tell us a bit about yourself?
Fortune: I am from Harare, Zimbabwe. I'm a go getter, once I set my eyes on something, I will have it. I don't believe the world owes me anything, but I owe it to the world to make a difference. I also believe if everyone plays their part, we can have a better world.
PIR News: What are you studying and why?
Fortune: I am studying for my Masters in Information Technology, specialising in Networking. I was a mathematics teacher, so my thesis will address the use of information technology in Education and how to enhance teaching and learning using technology such as mobile phones in the classroom.
PIR News: Why did you choose to study at the Polytechnic of Namibia?
Fortune: I completed a semester here last year and found that the Polytechnic is a place where one has access to several resources suitable for a conducive study environment, such as a well furnished library, accessible lecturers, and if one is disciplined, ample time to study.
PIR News: How would you describe your time at the Polytechnic and in Namibia thus far?
Fortune: Generally with studies there's this intense pressure, but I find Namibian life to be a bit more relaxed. I have met many diverse people from diverse cultures and there's a social benefit in that. I believe that mixing with different people makes one a more complete human being. The world has become a global village, and the more one is exposed to such diversity, it makes you a better leader.
PIR News: What has it meant to you to be awarded the Intra-ACP STREAM Mobility Scholarship?
Fortune: It is a great privilege because it's not something that would happen every day. Travelling to new places, gaining exposure in different societies/ communities and experiencing different feel honoured. Hopefully this will benefit many people and bring Africa closer.
PIR News: What do you intend to do after you complete your studies?
Fortune: I want to go and make a difference in the world. Since someone has given me this gift of an opportunity, I must also give to others. I hope to go and influence people to see the use of information technology in Education positively and to change the classroom set up in order to use technology to enhance teaching and learning. My goal is to see virtual classrooms accepted.