"STREAM Board Meeting Approves Agreements"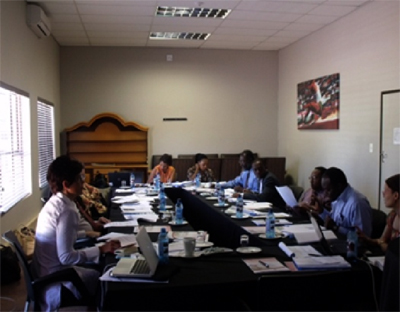 At the first coordinators' meeting in Addis Ababa, Ethiopia in October 2011, it became very evident that implementing a project of such nature, it is important that each partner understands in detail its obligations and tasks. Therefore it was necessary to hold a second board meeting, which was in form of a workshop. The meeting was held at the Sports Village PUK, at the North West University, Potchefstroom Campus, from 12 to 13 March 2012.
The main aim of the meeting was to conclude the discussions on the various agreements: partnership agreement, cooperation agreement and student agreements. The Board also approved the mobility implementation procedures and agree on all financial management procedures.
In particular, the meeting discussed the preparations for the first mobility call for PhD applications focusing on the readiness of the application database developed for managing the applications and implementation of mobility flows.

To implement the STREAM mobility scheme, it is important to develop a STREAM framework for credit transfer and recognition. This requires a separate deliberate meeting at which various qualification authorities and academic registrar may be required to discuss the technical details of implementing such a framework. The University of Buea, having gone through an alignment process to the Bologna ECTS, was nominated to be the partner to drive this debate. The meeting mandated the coordinator to visit Makerere University to discuss crucial implementation issues.
The meeting was concluded with a courtesy call by the Deputy Vice- Chancellor: Research, Innovation and Technology of the North West University, Prof. van Niekerk (on picture from row-centre) who encouraged the members to ensure African HEIs standards are enhanced through this mobility scheme.